14 more cases of whites being beaten,raped and murdered on the public street by black thugs with 12 fatalities.
No "STREETS THEORY" civil rights protections for white victims of interracial attacks.Yet if the races were reversed, most these attacks would be considered violations of existing civil rights laws..
Black mob attacks man in his house in Philadelphia
Street mob attacks man who gave refuge to two white kids fleeing for their lives.
http://www.philly.com/philly/news/20110927_Chased_home__Mob_attacks_man_in_his_house.html?cmpid=124488459



Quote:
ABOUT 11 P.M. on Sept. 9, dozens of youths with bats and pipes descended on a tidy residential area of Port Richmond looking for white teens who allegedly had attacked an African-American kid at Stokely Playground a couple of hours earlier.

Two fearful white teens spotted Mark LaVelle on Indiana Avenue near Belgrade Street and asked for help. Suddenly, the mob appeared. LaVelle, who said that he didn't know the two kids, who looked to be 13 or 14, ran with them into his nearby house.

" 'We got you, you white mother-------!' " LaVelle said he heard someone yell in the "mob" of black youths.

Inside his house, LaVelle, 37, called to his wife, Kim, 30, to go to their bedroom with their twin 13-month-old boys, Mark and Mason, and to call police. He also ordered his two other sons, 11 and 17, and his nephew, 7, to stay upstairs.
Quote:
With the two teens hiding in the house, LaVelle, 5 feet 10, 220 pounds, a well-known sports-league organizer and coach in the community, went outside to try to calm the angry mob....

But the attackers pounded on his front windows and kicked his wooden door so hard, it flew open and some of them entered his house.



"The first guy hits me with a pipe. The second guy knocks me in the face. All I'm hearing is my wife and kids screaming," said LaVelle, who feared that the next time they saw him, he would be in a casket.




LaVelle said that the next day the mother of the juvenile came back with some other people, banging on his door, screaming. LaVelle, who was at a charity sports event, was called back to the house by one of his sons.



When he got home, LaVelle said, the mother yelled at him, " 'You white mother------, you got my kid locked up! You got my son locked up because he's black, you're white!' "




But the mother, according to LaVelle, then yelled: " 'If you make it to court!

I know where you live!' "....

..

Patty-Pat Kozlowski, president of the Port Richmond on Patrol and Civic Association, said that police told her that the attack on LaVelle stemmed from the incident at Stokely Playground, Indiana Avenue and Thompson Street, a few blocks from LaVelle's house.

She heard that an African-American "kid got knocked off his bike or fell off" and white kids were laughing at him. The group of African-Americans and Hispanics came back for retaliation,

LaVelle, who runs sports leagues composed of youths and adults of different races, said he doesn't want any retaliation on the people who attacked him. But the attack has instilled fear in him and his family, and he hopes that there will be more of a police presence in the neighborhood.



His wife is afraid to stay at home, and "every time I hear a car, I'm looking out the door," he said.

"It's not a good way to live."
6 black thugs attack and kill Philadelphia white victim in racially targeted attack
Yet acquitted of murder and no federal civil rights charges filed
http://www.philly.com/dailynews/local/2007...tal__anger.html
Fairmount murder trial ends in acquittal, anger
A Common Pleas jury yesterday acquitted Quinzell McCall, 17, of North Philadelphia, of murder in the shooting death of a Fairmount teen last year, but convicted him on weapons offenses.
As the foreman announced the "not guilty" verdict on first-degree murder, a male cousin of victim Robert Pierson, 17, muttered, "F---ing...," as he sat in the gallery.
McCall, standing at the defense table, smiled.
When the foreman again announced "not guilty" on third-degree murder, Pierson's mother, Patricia Rounds, began sobbing aloud.
McCall's aunt, Karen McCall, arrived in the courtroom just after the verdicts were read. When told of the outcomes, she pumped her hands upward and mouthed, "Yes!"
Pierson's death - and now, the verdicts - has sparked racial anger among Pierson's family, who is white.
McCall was among six African-American teens, then aged 13 to 16, who came from North Philly into the Art Museum neighborhood March 23, 2006, with the intention of beating and robbing white people, according to the teens' testimonies.
Pierson, a senior at Franklin Learning Center and a star baseball pitcher on various teams, was taken to Hahnemann University Hospital in critical condition. He was taken off life support about three weeks later.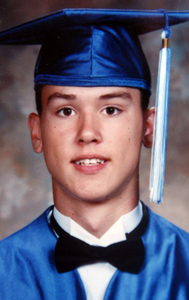 College student murdered by black thug in Florida
Tyler Hinkle, 19, of Pensacola was fatally stabbed
outside the Domino's at 27 N. Navy Blvd. after returning from delivering a pizza.....
Quote:
"He gave a brief description, and I mean very brief, that it was a black male. To the best of my knowledge, that was pretty much all he said."
Escambia County sheriff's investigators canvassed the area near a westside Domino's Pizza on Monday, seeking information in the stabbing death Saturday night of a Pensacola State College student.
Tyler Hinkle, 19, of Pensacola was fatally stabbed outside the Domino's at 27 N. Navy Blvd. after returning from delivering a pizza.
http://www.pnj.com/comments/article/20110927/NEWS01/109270307/No-arrests-made-after-teen-stabbed-outside-Domino-s
http://www.pnj.com/comments/article/20110926/NEWS01/109260307/Deputies-search-clues-murder-Domino-s-employee
3 black thugs arrested for murdering white victim in California
Quote:
STOCKTON, CA - Stockton police have announced the arrests of three people, allegedly connected to Wednesday's killing of a federal prison employee. Police also say the motive appears to be robbery.



"Mr. Rutledge was in the wrong place at the wrong time," said Stockton police spokesman Pete Smith. "The killing was senseless."



It could have been more accurately stated that the victim was the wrong race in the wrong place at the wrong time.

Smith said shortly after Michael Rutledge, 35, was killed, his stolen credit cards were used at nearby gas stations and convenience stores.
http://www.news10.net/news/local/story.aspx?storyid=49570&provider=top
Seattle punk rock band singer brutally beaten, raped, and murdered on the street outside her home
Mia Katherine Zapata (August 25, 1965 – July 7, 1993) was the lead singer for the Seattle punk band The Gits.
She was beaten, raped and strangled in the Central District of Seattle.According to the medical examiner, if she had not been strangled she would have died from the internal injuries suffered from the beating.
http://en.wikipedia.org/wiki/Mia_Zapata
Subway Beat Down Video from NYC
Lone white taunted then attacked by a group of blacks on subway
http://www.thesmokinggun.com/documents/internet/train-beat-down-video
6 black thugs attack beat white woman in front of her home in Tennessee
Chattanooga TN: Joyce Russell of Wheeler Street said she walked to Sandy's Liquors. When she got back to her house there were six black males standing in front.
She said one in the group called her "you white b----" and punched her in the face at least twice. He pushed her to the ground and kicked her in the chest and stomach. Then they left without saying anything else.
Police said Ms. Russell had a tooth knocked out and her nose and upper lip were swollen. She had intense pain in her chest. She was taken to the Memorial Hospital emergency room.
She said she did not know anyone in the group and believes she was targeted because she is white.
http://www.chattanoogan.com/2009/2/3/143947/Police-Blotter-Robbery-On-Shawnee-Trail.aspx
http://www.chattanoogan.com/articles/article_143975.asp
White victim killed in Louisiana
After more than two years awaiting a murder trial at the St. Tammany Parish jail, a 23-year-old Covington man pleaded guilty Friday to simple robbery and acting as an accessory to the punch that led to
18-year-old Joshua Farmer'
s death.
Brenton Hills agreed to a two-year prison sentence with credit for the time he already served,
said his attorney John W. Lindner.
Hills and 21-year-old Pierre Perkins were booked with second-degree murder in July 2009, after Perkins, then 19, punched Farmer outside a home in the Abita Nursery subdivision near Abita Springs. Farmer fell backward, hit his head and later died of a hematoma.
.....
http://www.nola.com/crime/index.ssf/2011/09/second_man_pleads_guilty_as_ac.html
Trucker murdered on roadside in South Carolina
The coroner says 35-year-old Jason Rivenburgh of New York
died of a gunshot wound to the head.
He was found Saturday morning on I-26 near a closed gas station at exit 136 after someone called 911. The sheriff's department says he was sleeping in the truck.
"He apparently made it to Calhoun County Thursday afternoon and stopped into a vacant gas station to rest for the night. When he apparently was shot and killed during a robbery attempt about 10:30 Thursday evening," said Sheriff Thomas Summers.
"I think about the man that was killed. He has a 2-year-old son, his wife is pregnant with twins, he was driving this truck to make some extra money," said Summers.
"He's not going home. He's not going home.
http://www.wistv.com/story/9965887/arrests-made-after-trucker-found-murdered-on-i-26?clienttype=printable
Indiana man murdered outside his apartment
Indianapolis - A 15-year-old boy has been sentenced to 55 years in prison for fatally shooting a man outside his Indianapolis apartment.
Prosecutors say Nevin Brooks was 14 when he killed 27-year-old David Hardwick in March 2008. Brooks wasn't arrested in the case until January, after a juvenile court judge had sent him to a rehabilitation program at Boys Town in Omaha, Neb., for his involvement in armed robberies.
A Marion County judge said Thursday that Brooks' age weighed heavily in the sentencing decision, but that society must be protected from his violent behavior.
The teen's father is in prison for a 2001 murder conviction, but Hardwick's widow says being failed by his family didn't excuse the shooting.
Hardwick was a jewelry store manager with three children and two stepchildren.
http://www.wthr.com/Global/story.asp?S=9659511
College student murdered by black thug in Florida
Victim gave the thug all he had but it wasn't enough so the thug murdered him
Quote:
TAMPA — The man who robbed and fatally shot a University of Tampa student early Wednesday was angered by the small amount of cash he got, police said.

Before he pulled the trigger, police spokeswoman Laura McElroy said, "The suspect continued to demand more money and was irate that they didn't have more."



Why he would pull the trigger and commit such a senseless crime is a question we don't have an answer to," McElroy said.


Police are still searching for the suspect, described as a black male in his 30s, about 5 feet 10 and 180 pounds with a husky build and a goatee.
http://www.tampabay.com/news/publicsafety/killer-angered-over-small-amount-he-got-from-ut-student/1029681
http://www.examiner.com/crime-in-tampa-bay/university-of-tampa-student-robbed-and-killed-suspect-on-the-loose
3 black thugs rob and murder white victim in Oklahoma
OKLAHOMA CITY -- A jury found a teen guilty of first-degree murder for the fatal shooting of a pizza delivery man.
Eighteen-year-old Zonta West will spend the rest of his life in prison after he was convicted in the death of Jeremy Moore Friday.
Two other robbers testified that West was the one who shot and killed Papa John's Pizza employee Jeremy Moore at an Oklahoma City apartment complex back in November 2008. West denied pulling the trigger.
The robbers got away with $42.91 in pizza, chicken wings and soft drinks.
One other person has been convicted in Moore's murder.
Moore took the part-time job delivering pizzas to support his newborn daughter.
http://www.news9.com/story/12449771/teen-found-guilty-in-murder-of-pizza-delivery-driver?redirected=true