Congressional Aide murdered for being white on a public street in Washington DC
Killer told his bros, 'Lets go get a white man"
Hat tip to Conatus for the story.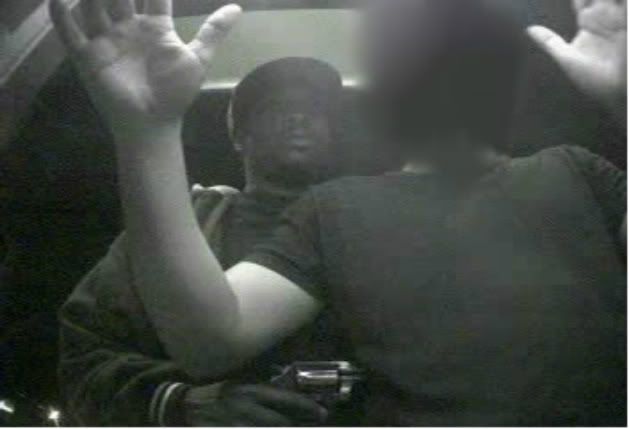 Classic photo of black on white violent crime taken by an ATM security camera of a robbery in progress
Quote:
Senate aide Samuel T. "Tom" Barnes, slain two years ago on a street corner near the Capitol, was described in court yesterday as the victim of an indiscriminate shooting by an assailant who told friends moments before the killing: "Let's go get a white man."

Two prosecution witnesses testified in D.C. Superior Court that

Edward Ellsworth Evans, now 21, approached Barnes from behind at Seventh and Acker streets NE, pointed a pistol at Barnes's head and shot him at close range in an unprovoked attack.
http://www.highbeam.com/doc/1P2-885209.html
Quote:
—Tom Barnes, a congressional aide for Alabama Senator Richard Shelby

was shot in the head by a teenager, Edward Evans Jr., who lived down the street from Barnes in the Capitol Hill neighborhood.

Barnes died four days later and was killed nine months after LaShawn Evans had been murdered. Despite

overwhelming evidence against Edward Evans Jr., his trial ended in a hung jury with one juror refusing to convict him

.[4]
http://www.search.com/reference/Crime_in_Washington,_D.C.
Quote:
In 1992, a white congressional aide working for Senator Richard Shelby of Alabama was accosted at his home in Washington, D.C., and shot to death. A few weeks later, Edward Evans, a young black man, was arrested. Two friends of Evans testified that they saw him shoot the young staffer.



One of them said that Evans harbored strong antiwhite sentiments and promised he was going to kill a white man.


The material evidence against Evans, presented at trial, seemed overwhelming. Yet although eleven jurors including five blacks, initially agreed that Evans was guilty of murder,

one African American woman, Velma McNeil, refused to convict.



A frustrated white jury foreman claimed to the judge that "one juror" was simply unwilling to give credence to the prosecution's evidence against Evans. He also stated later that, during jury deliberations, McNeil told fellow jurors that the exoneration of Los Angeles police officers who beat black motorist Rodney King showed the systematic bias of the judicial system against blacks. The consequence was a hung jury, and the judge was forced to declare a mistrial.



A Washington Post photograph shows McNeil emerging from the courtroom, smiling, chatting, and embracing a relative of the accused.
http://www.washingtonpost.com/wp-srv/style/longterm/books/chap1/endofrac.htm
Racist black jurors like McNeil to be common in future trials of black thugs based on the so- called "Racial Justice Act"mentioned below.
North Carolin thug's death penalty overturned under misnamed "Racial Justice Act"
Black judge rules that there were too many blacks excluded from the jury. Two black jurors on the jury was not enough for "racial justice". The goal evidently is to get racist black jurors who will refuse to convict black thugs guilty of violent crimes against whites like in the previous murder case of Samuel T Barnes..
Smiling hate killer happy that Critical Race Theory via the "Racial Justice Act" has as clicked in and overturned his death penalty
Quote:
In 1991, 18-year-old Marcus Reymond Robinson and a friend convinced Erik Tornblom, 17, to give them a ride home from a gas station.



Robinson and his friend then pulled a gun on Tornblom, forced him to drive to a field, took his car and his money and shot him in the face with a saw offed shotgun..


A jury later convicted Robinson, who is black, of pulling the trigger on Tornblom, who was white. The prosecution presented evidence that Robinson said he wanted to kill a "whitey".



He was sentenced to death and scheduled to be executed in 2007
http://1millionpoints.blogspot.com/2012/02/erik-tornblom.html
http://www.fayobserver.com/articles/2012/01/30/1153982?sac=Local
.
Shot in the face with a shotgun for being white