How the "liberal" dogma of white guilt kills white women in interracial relationships
Institutionalized white guilt leaves white women defenseless against black racist violence
And it emboldens the black thugs who use this

white guilt to their advantage in violent interracial relationships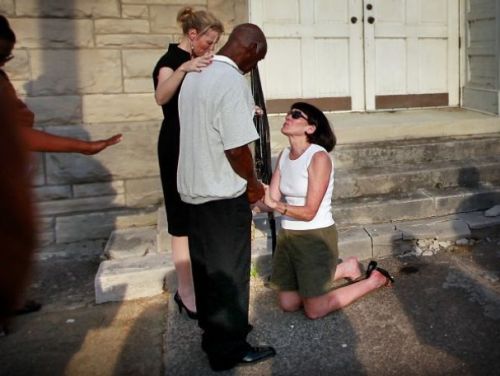 A white "liberal" begs forgiveness for her race at church outreach

seminar
In the previous post I discussed how black race hatred of whites is evident in black on white intimate partner homicides. Another major factor is institutionalized white guilt that leaves white women ignorant of and defenseless

against the

racial realities of black race hatred of whites.
Due to this institutionalized indoctrination,

m

any "liberal" whites will ignore red flags about black acquaintances because they think any distrust, or being critical of blacks, will brand them as "racist"
A guilt tripping,white "liberal"parent who turns a blind eye to these racial realities in order to be "politically correct" and raises his daughter with his double standard and guilt trip on race, is leaving her defenseless and unable to see any warning flags with a black man that she would see with a white man.
This white guilt may end up killing her.
As noted by this courageous Harvard educated woman Sociologist:
http://books.google.com/books?id=LIO293clu44C&lpg=PA141&pg=PA175#v=onepage&q&f=false
Quote:
Many white women put themselves in situations with black men that they would otherwise not enter if the men were white.They assume that their lack of trust in black men is racist when actually it may be quite appropriate.....

Some would allow themselves to talk with a black stranger and go off alone with him when they would not do that with a white man.
This institutionalized white guilt and institutionalized black racism and race hatred will be evident in the following cases of black on white intimate partner homicides.