297

whites murdered in intimate partner, interracial relationships with blacks Black/white, intimate partner relationships are dangerous for white women and their families Yet these relationships are encouraged by our liberal society with no mention of the often fatal results they have for naive white women and their families. For background information of just why they are so dangerous and the data proving their danger, consult the

background links

below:
Background, Black race hatred of whites evident in violent crime discussed at this LINK

Background

, Institutionalized white guilt enabling black on white violent crime discussed at this LINK Background, Suppressed sociological and criminological studies on black/white IP violence discussed at this LINK

Background

, Other metrics of young black men that make them dangerous to white wives and girlfriends discussed at this LINK

Disclaimer, Mixed motives and further research discussed at this

LINK
Some sample cases:
White women with non spousal intimate partner relationships with black men are murdered at more than 20 times the rate of those with intimate partner relationships with white men.
Oklahoma, Live in thug murders his pregnant girlfriend
Quote
MIDWEST CITY, Oklahoma – Midwest City police have identified the 24-year-old woman killed by her fiancé early Monday morning in their apartment.

Stacey L. Beesley was found dead in an apartment after her fiancé Eric Knox told police he had killed her.



Beesley was the assistant apartment manager for Willow Creek Apartments and had been living with Knox since July of this year.



Knox was arrested on two counts of first-degree murder because Beesley was 5 months pregnant. He is being held at the Midwest City Police Department pending transfer to Oklahoma County jail.
http://www.news9.com/story/11715820/midwest-city-homicide-victim-was-pregnant?redirected=true
Philadelphia Thug apparently murders estranged girlfriend and beats her great grandmother to death.

When you date a thug you bring him into your family. Sometimes with horrific consequences.

Quote:
Arrest Follows Murder of Woman, Grandmother



A man was accused of stabbing a former girlfriend to death, beating her great-grandmother to death, and setting their row house on fire to cover the crime, police said.


Brandon Foster, 23, of West Philadelphia, was arrested Thursday night at his home, charged with two counts of murder, arson and other counts, and held without bail, officials said.

The bodies of Samantha Zenszer, 21, and Violet McCall, 79, were found Tuesday when firefighters responded to the fire at their home in the Holmesburg section.

Foster had formerly dated Zenszer, officials said.

"We assume it was just a relationship ending, and he didn't want it to end," Lt. James M. Boyle said.
http://abclocal.go.com/wpvi/story?section=news/local&id=3786877

New York, "He deliberately tried to destroy her face by sadistically slicing it apart"



Quote:
Coit, 23, who was stabbed to death Sunday in her Manhattan apartment, ran cross country and was "very well liked," said Mongovan, who has coached at the school since 1989.



Mongovan said he was horrified by reports that Coit's killer deliberately tried to destroy her face - and nearly decapitated her in his fury.

Sources said the hotheaded suspect lost it when he Coit said they were through - and slew her after sadistically slicing her face apart with knives from a wooden butcher block.
http://articles.nydailynews.com/2011-04-12/news/29434331_1_coleman-entertainment-group-lynde-coit-stab-wound
The

simple, naked and unanswerable hatred

that James Balwin wrote about in 1955 is evidently being answered many times today:

Quote:
There is, I should think, no Negro living in America who has not felt, briefly or for long periods, with anguish sharp or dull, in varying degrees and to varying effect,

simple, naked and unanswerable hatred

; who has not wanted to smash any white face he may encounter in a day, to violate, out of motives of the cruelest vengeance, their women, to break the bodies of all white people and bring them low…
James Baldwin
Michigan, Man murders 7 members of his white girlfriends family
When you date a racist black thug you bring him into your family. Consequently you put everyone around you who is white at risk.
Quote:
Police say the 34-year-old ex-con

targeted two former girlfriends in Thursday's rampage, fatally shooting both of them and five members of their families, including his own 12-year-old daughter

. He also shot and wounded two other people — one of them another ex-girlfriend — while leading officers on a chase through Michigan's second-largest city.

"He went out hunting these people down. It was very much a purposeful act." Police Chief Kevin Belk said Friday, describing Dantzler as mentally unstable but saying he

knew of no clinical diagnosis or motive for the killings.
Dang! That mystery motive again! What could it possibly be?
http://www.msnbc.msn.com/id/43677328/ns/us_news-crime_and_courts/t/police-killer-was-hunting-ex-girlfriends-relatives#.Tz0-IoGGhI4
Kimberlee Emkens, 23, an ex-girlfriend of Rodrick Dantzler
Marissa Lynn Emkens, 10, killed along with her mother Amanda Emkens, 27, and her aunt Kimberlee.
Jennifer Heeren, 29, a longtime girlfriend of Rodrick Dantzler. The couple had a 12-year-old female offspring Kamrie, who was also killed by her daddy Dantzler.
Jennifer's parents, Thomas, 51, and Rebecca Heeren, 52.
"Liberal white girl joins black boyfriend in murdering white victim
Here is another possible result of "liberal", airhead, parenting and "liberal" blindness on race as applied to interracial dating.
The daughter may be so "liberal" that she will do anything her black boyfriend demands including showing him her Pimp Respect by joining him in murder.
Just an extension of the guilt phenomenon in white women described in this sociological study:
http://books.google.com/books?id=LIO293clu44C&lpg=PA141&pg=PA175#v=onepage&q&f=false
Quote:
MOUNT VERNON, Ill. (AP) -- Jury selection will get under way in the Mount Vernon trial of one of three suspects in last year's slaying of a businessman. Twenty-two-year-old Krysta Donoho is charged with first-degree murder in the shooting death of 53-year-old Randy Farrar.



His body was found in his home in July of last year. Authorities say the killing happened during a robbery. Trials for the two other defendants, 22-year-old Christopher Watkins and 29-year-old Demetrius Cole, are pending. Each of the suspects is jailed on $5 million bond. Opening statements in Donoho's case are expected next Monday.
Quote:
MT. VERNON — Sobs wracked the body of 22-year-old Krysta Donoho as she found out Thursday evening she had been found guilty of robbery and first-degree murder in connection with the death of Randy Farrar.
The murdered victim



Black thug buys white girlfriend goodies with murdered victims credit card
Given the astoundingly high murder rate of young black males, a white girlfriend may become an innocent or not so innocent beneficiary of his crimes.
Here the thug is a maintenance worker with keys to all the apartments in the complex. He apparently murders an 80 year old white woman in her apartment and takes his girlfriend shopping on his victims credit card.
Quote:
Early Wednesday, police released several surveillance pictures from a Southside Wal-Mart that show the potential witness with John Middleton, a suspect in the death of Virginia Harritt
Quote:
Harritt's son found his mother's body in her Mandarin apartment last week after he had not heard from her in a while.



Middleton was a maintenance worker at the Woodlake Park Apartments at San Jose Boulevard and Sunbeam Road, where Harritt had recently moved. As a maintenance worker, Middleton was trusted with keys to every apartment in the complex.


While Middleton made several ATM withdraws around town, according to police, the photos from the Wal-Mart on Beach Street and Southside Boulevard are the only images that show a woman with the suspect.

Police said the possible witness and Middleton used Harritt's bank card at the Wal-Mart.
Three children murdered by white mother to please black boyfriend
,
Another example of a white woman totally abused and dominated by her black boyfriend. So dominated that she evidently let him murder her three children giving him the ultimate Pimp Respect.
Quote:
CLINTON, Ill. — A mother convicted of allowing her three children to drown was sentenced Thursday to 10 years in prison.



Amanda Hamm, 30, was convicted in December in the deaths of Christopher Hamm, 6, Austin Brown, 3, and Kyleigh Hamm, 1, who were trapped inside a car that sank in Clinton Lake in 2003.


Hamm and then-boyfriend Maurice LaGrone Jr., who was convicted of first-degree murder in April.

LaGrone, 31, who is serving a life sentence without a chance of parole, has appealed his conviction.

Prosecutors alleged LaGrone had planned to kill the children because they were getting in the way of his sex-and-drugs lifestyle.

Hamm went along with the plan — as well as LaGrone's abuse of her and her children — because she could not live without a man, prosecutors said
http://www.foxnews.com/story/0,2933,249330,00.html#ixzz1YoXfYw1R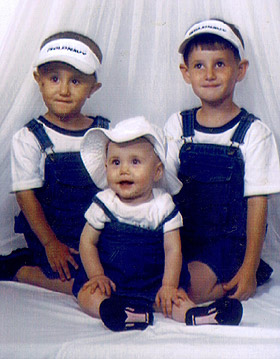 10 innocents murdered at this LINK
11 innocents murdered at this LINK
8 innocents murdered at this LINK
26 innocents murdered at this LINK
9 innocents murdered at this LINK
8 innocents murdered at this LINK
17 innocents murdered at this LINK
52 innocents murdered at this LINK
44 innocents murdered at this LINK
44 more innocents murdered at this LINK
66 more innocents murdered at this LINK
A photo montage of many of these victims at this LINK