8 white female victims of interracial intimate partner homicide
For background information on the sociological metrics of black on white intimate partner violence go to this
LINK
NYC student murdered
Louisiana woman murdered
Quote:

LAKE CHARLES, LA (KPLC) - A 47-year-old Lake Charles woman was stabbed early Monday at her home, according to Lake Charles police.

Police say Dorothy Melinda Horsman was pronounced dead later at a Lake Charles hospital. Her boyfriend, 34-year-old Manzy C. Watson, is in jail, booked for second-degree murder and attempted murder.....



"We suspect the victim and the subject knew each other and in fact, had been living together off and on since April of this year.
http://www.kplctv.com/story/19323724/lake-charles-man-arrested-in-legion-street-homicide
Alaska Woman murdered

FAIRBANKS, Alaska -- A man has been arrested on charges he murdered a North Pole woman
he was dating late last spring.
Fairbanks police on Friday arrested Nyrobbie Chandler in the death of
31-year-old Kaylynn Bishop
. ....
http://www.sfgate.com/news/article/Police-Man-posed-as-dead-girlfriend-in-texts-3799545.php
http://www.sacbee.com/2012/08/17/4735214/man-arrested-in-death-of-north.html#storylink=cpy
http://www.newsminer.com/view/full_story/18595784/article-Fairbanks-police-investigating-Kaylynn-Bishop-s-death-as-a-homicide?instance=home_most_popular1
North Carolina woman murdered
Quote:
CHAPEL HILL -- A Chapel Hill man arrested in October for allegedly attacking the woman with whom he lived, and who then went free days later when she recanted, was charged Friday with her murder.

Thursday evening, Chapel Hill police discovered Keara Lynne Hart, 30, dead on the floor of the apartment she shared with Damego Demon Lee, 32. She had been stabbed, police said. Authorities went to the apartment after Hart's family members told police they couldn't reach her and were worried about her, police said.
http://chatham-county-nc.com/bulletinboard/index.php?topic=494.0;wap2
http://moms.memorial-of-love.net/momsrm2xxx.html
Tennessee woman murdered
http://nashvillecitypaper.com/content/city-news/estranged-husband-suspected-green-hills-shooting-found-dead-0
Quote:
NASHVILLE, Tenn. - The daughter of a woman who was gunned down by her estranged husband said she was worried about her mother

who endured years of abuse before she was killed on Monday morning.



Gina Strange's mother, Vickie Pearsall, was found shot to death inside a Green Hills dentist office on Crestmoor Road where she worked.

Metro police said Gilbert Pearsall was the prime suspect in the case.....
http://www.wkrn.com/story/18711686/daughter-of-murdered-dental-assistant-speaks-out
Illinois woman murdered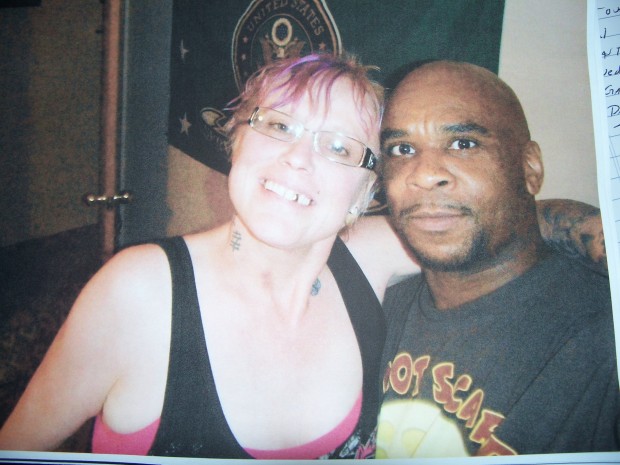 Quote:
- MERRILLVILLE | A man being sought in connection with an apparent homicide of a Merrillville woman was found dead in a Cook County motel room.

Police said 42-year-old

James Bailey was a live-in boyfriend

of Kimberly L. Danielewicz. Bailey was pronounced dead at 11:34 a.m. at 2448 N. Mannheim Road in Franklin Park, Ill., a representative from the Cook County medical examiner's office said.

Danielewicz, 40, was found dead Friday afternoon after Merrillville police officers were sent to her home in the 1400 block of West 86th Avenue for a well-being check. The Lake County coroner's office said she suffered multiple puncture injuries......

.

.Petruch also said Bailey had a "lengthy" criminal history, which included a murder conviction in Illinois.
http://www.nwitimes.com/news/local/lake/merrillville/boyfriend-of-m-ville-homicide-victim-found-dead/article_c0ff8551-8e2b-58c4-90eb-
New Jersey woman beaten to death

Quote:
A Camden man who had threatened to kill his longtime girlfriend if she left him has been charged with beating her to death in June, authorities said Tuesday.

William W. White, 59, had been in a relationship with Alma Brito-Reyes, 49....

On June 4, a family member found Brito-Reyes' body in her bedroom on the second floor of the house in the 3000 block of Hartford Road, authorities said. She had died from blunt trauma to the head and neck, officials said.

Citing family members, authorities said White, who was an early suspect in the killing, had threatened Brito-Reyes' life if she ended their relationship.

He fled the area immediately after the killing.
http://articles.philly.com/2012-07-10/news/32619876_1_camden-man-camden-county-prosecutor-s-office-murder-charge
http://www.courierpostonline.com/article/20120711/CRIME/307110023/Camden-man-faces-extradition-slaying
http://www.legacy.com/obituaries/courierpostonline/obituary.aspx?n=alma-brito&pid=157972455