8 white women murdered in interracial, intimate partner violence
For background information on the sociological metrics of black on white intimate partner violence go to this
LINK
Louisiana woman murdered
Apparent boyfriend of daughter arrested for murdering her mother
http://theadvocate.com/csp/mediapool/sites/Advocate/assets/templates/FullStoryPrint.csp?cid=3282363&preview=y
Quote:
CLINTON, La. (AP) — East Feliciana Parish sheriff's deputies and state police have arrested four people in the slaying of an Ethel woman.

East Feliciana Sheriff Talmadge Bunch said the victim's body was found early Friday outside a vacant house. She was identified as 58-year-old Katherine Hartman. She had been reported missing by her daughter, 34-year-old Lisa Keller.

Authorities say 26-year-old Kendale Scott is booked with second-degree murder. The Advocate reports that he lived at the victim's address along with Keller
http://www.nola.com/newsflash/index.ssf/story/1-booked-in-ethel-womans-death-3/219dad7d214e48b0b682af00df18c883
http://www.findagrave.com/cgi-bin/fg.cgi?page=gr&GSob=c&GSlh=1&GRid=93531079&
Friendship

betrayed in Fairbanks Alaska
Perp steals prized heirloom jewelery from long time white friend to have it melted down for a "grill" for his teeth.
While this is not another horrific violent crime, it is significant in that it shows the "gratitude" of a racist black to a long time white friend. It also demonstrates the appalling ignorance some liberal whites have of black racist resentment and their outright hatred of whites.
Quote:
Offender Name: KEJUAN B GADDIS

FAIRBANKS --
30-year-old Kejuan Bruce Gaddis has been sentenced to jail for stealing a friend's jewelry to make a dental grill for himself.
According to charging documents, Gaddis took $3,200 in jewelry from Jennifer Silva, a friend who had been letting him store things in her home.
He later brought it to Bishop's Jewelry to have it melted down........
http://www.adn.com/2012/06/28/2523566/fairbanks-man-stole-jewelry-to.html#storylink=cpy
FAIRBANKS, Alaska—Jennifer Silva's mother's jewelry was stolen from her Fairbanks home this month.
She recently found out it has been melted down to be made into a dental grill for the thief. But as she described it Wednesday evening, the greatest shock was discovering the culprit might have been someone she trusted.
It was not until a few days later Silva was surprised to learn that the man who brought in the jewelry was her friend, Kejuan Bruce Gaddis.
Silva said she had known Gaddis for 10 years, sometimes helping him at times "when no one else had." In fact she was helping at the time of the arrest, picking him up at the airport when he moved back to Fairbanks from Anchorage.
She already had a roommate and could not offer him housing, but she said she let Gaddis keep some things in her home and use it to shower and change clothes there as he transitioned to life in the Interior and a new job for a moving company.
According to Silva, Gaddis knew that some of the jewelry had belonged to her mother Kathy Worsham. Other pieces were birthday or Christmas presents from her mother, who died last March after a lengthy illness.
Silva said Gaddis had heard her say the jewelry was the only thing of value she owned but were too valuable emotionally to sell for practical things she needed, like a new boiler.
To take the jewelry Gaddis would have had to open the jewelry box next to a photograph of her mother.
"The fact that he could take it (the jewelry) while she's watching you," she said.
"The betrayal is immense."
"He did not do this because he was starving, or because his kids needed money, or because he was getting evicted or needed to pay his electric bill. He brought all my jewelry to Bishop's and had it melted down to make a grill for his mouth."
Wisconsin woman hate raped and savagely beaten to death
Victim was possibly a casual acquaintance with the perp who left with him after the bar closed. Or possibly she was abducted, raped and murdered. The articles don't make this clear.
http://wsau.com/news/articles/2012/jun/26/emerson-again-denied-new-trial-in-cold-case-murder/

MADISON, Wis. (AP) — A Wausau man accused of savagely beating a woman a dozen years ago was properly convicted, a state appeals court ruled Tuesday.

James Emerson, now 48, had raised multiple arguments on appeal, including claims that his trial attorney was ineffective, he was forced to face white jurors and a judge improperly allowed evidence that he had propositioned women outside bars. The 3rd District Court of Appeals rejected all of his arguments.

Prosecutors say Emerson and 37-year-old Rhonda Mertes were among a group of people who left a bar around closing time in December 1999. Later that morning, joggers discovered Mertes' badly beaten body in a pool of blood near an abandoned building........
District Attorney Jill Falstad says witnesses also place Emerson and Mertes at the same downtown Wausau bar, the 101 Pub, at closing time the morning she was found dead.


http://www.sfgate.com/news/article/Wis-court-upholds-conviction-in-1999-homicide-3663648.php
Perp uses the Race Card to distract from his obvious guilt:
Quote:
Emerson, who is African American, next argues the court erred by selecting the jury panel from Iowa County, which has a small population of African Americans. He asserts that, because

the victim was white

,

he was prejudiced by being forced to go to trial with jurors from a county with a low African American population.....
California woman beaten to death with a baseball bat
Quote:
(KBAK/KBFX) — The Bakersfield man accused of beating his former girlfriend to death with a baseball bat made his first appearance on the murder charge Tuesday in Kern County Superior Court.

Sheriff's investigation reports obtained by Eyewitness News reveal that Brown admitted to getting angry with Charla Haar, 39, after an argument. The 24-year-old told the deputy he was angry and couldn't stop hitting her. He then covered her body with a blanket so he and Haar's two young children didn't have to see her dead.
http://www.bakersfieldnow.com/news/local/Man-accused-of-killing-former-girlfriend-in-court-149785195.html
Charla Dell Haar
http://obits.dignitymemorial.com/dignity-memorial/obituary.aspx?n=Charla-Haar&lc=7021&pid=157361520&mid=5086355&locale=en-US
Texas woman murdered, her two children shot, in brutal double murder
Quote
LAREDO, Texas - An El Campo man charged with shooting two young children in a Laredo hotel room, killing one of them, is also suspected of killing the boys' mother and stashing her body at his father's house, police said.

Demond Bluntson, 36, was father to one of the children, police said. Neighbors said Bluntsson was the father of the 21-month-old boy who died almost instantly. His brother, 6, was on life support Wednesday
.
Quote:
Police checked on the children at the Holiday Inn-Civic Center around midday after receiving a call suggesting the children and their mother, 28-year-old Brandy Cerny, could be in trouble. After knocking on the hotel room door and identifying themselves as police, officers heard several immediate shots, including some through the door.

Several hours later, a neighbor of Bluntson's father found Cerny's body. ......
http://www.click2houston.com/news/Kids-shot-mother-found-dead/-/1735978/15169922/-/ni02wr/-/index.html
http://seemydeath.com/murders/3432-breaking-news-brandy-cerny-28-is-missing-her-infant-child-was-shot-to-death-and-her-toddler-is-on-life-support.html
2 Irish exchange students hate raped, one murdered, in Japan by members of touring American rap group
Quote:
A keyboard player for female rap star Nicki Minaj, has been arrested for the rape and murder of Irish exchange student Nicola Furlong.
Female rapper Nicki Minaj
This has been a major news story in Japan and Ireland, but it has been barely covered in the United States.

An Irish exchange student attended a rap concert in Japan. The performers were all from the United States. She was found dead the next morning.

Two black males, who were employed by the concert tour have been arrested.
One of them, backup dancer James Blackstone, has already been charged with sexually assaulting a friend of the murder victim. Now, the second suspect has reportedly confessed to strangling Nicola Furlong.

Police say that surveillance video shows Furlong passed out in a wheelchair. Police say she may have been given a spike drink. Furlong was wheeled to the suspects hotel room, raped and strangled.
James Blackstone had been videotaped terrorizing elderly Japanese people on a train the day before the attacks.
The video at link below shows how Blackstone represents the afro American culture in Japan with his rude, aggressive, ape like antics.. (I guess he thought was on the subway in NYC.) He is obviously trying to shock and intimidate the conservative Japanese commuters.
It obviously was filmed by other members of the Minaj troupe. They seem to be the only ones smiling in the video.
http://www.youtube.com/watch?feature=player_embedded&v=eaMxy6FF4Lk
Woman murdered in New York City

Quote:
NEW YORK (CBSNewYork) – Efriam Gabourel, 26 jumped to his death from his Williamsburg apartment building after 29-year-old Liliana Belfor was found dead in his bathtub on Tuesday night, police said.....

Gabourel, 26 — who has about a dozen prior arrests that include robbery, assault and burglary —
Comments in this blog indicate that her boyfriend was black.
http://closetjane.blogspot.com/2012/04/russian-doll.html
Son of interracial couple murders his mother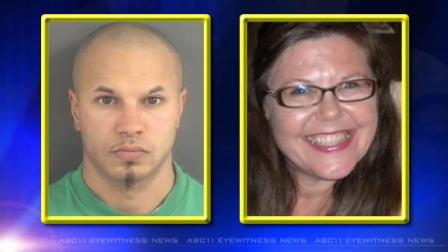 http://abclocal.go.com/wtvd/story?section=news/local&id=8602077
Quote:
Cumberland County deputies say a Hope Mills man strangled his mother.
They charged 30-year-old Robert Terry Ellison of 1822 Canady Pond Road with second-degree murder Friday.

On Dec. 11, 2011, the body of 50-year old Edwardyne "Dynee" Ann Williams was found in a wooded area about a quarter of a mile from the home where she and her son lived.